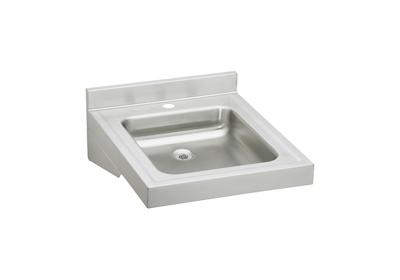 View Product Image Full Screen

Image May Not Reflect Selected Options
Elevate the culinary experience with the professional grade Gourmet collection.
Meticulous attention to form and function creates a new standard for the connoisseur.
ADA COMPLIANT: Product is ADA compliant when properly installed.
OFFSET DRAIN: Drain placement provides more usable space on the bottom of the sink and in the cabinet below.
Installation Type
Wall
Material
Stainless Steel
Finish
Buffed Satin
Gauge
18 Gauge
Number of Bowls
1
Minimum Cabinet Size
0"
Sink Dimensions
L: 19"
W: 23"
D: 4"
Bowl 1 Dimensions
L: 13-1/2"
W: 16"
H: 4"
Faucet Holes
Shipping Dimensions
L: 23-1/2"
W: 19-3/4"
H: 10-1/2"
Product Compliance

ADA & ICC A117.1
BUY AMERICAN ACT
NSF 2

Accessory

ASME A112.18.2/CSA B125.2
Approximate Shipping Weight
17.2 lbs
Made In USA
ADA Compliant
Product Specifications
Installation Type
Wall
Material
Stainless Steel
Finish
Buffed Satin
Gauge
18 Gauge
Number of Bowls
1
Minimum Cabinet Size
0"
Sink Dimensions
L: 19"
W: 23"
D: 4"
Bowl 1 Dimensions
L: 13-1/2"
W: 16"
H: 4"
Faucet Holes

1

3

Shipping Dimensions
L: 23-1/2"
W: 19-3/4"
H: 10-1/2"
Product Compliance

ADA & ICC A117.1
BUY AMERICAN ACT
NSF 2

Accessory

ASME A112.18.2/CSA B125.2
Approximate Shipping Weight
17.2 lbs
Made In USA
ADA Compliant