Sinks
Transitional
Elkay Lustertone Stainless Steel 31-1/2" x 21-1/8" x 7-1/2", Offset 70/30 Double Bowl Undermount Sink Kit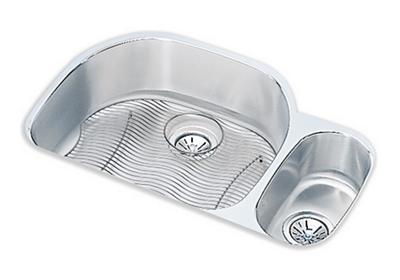 View Product Image Full Screen
Image May Not Reflect Selected Options
Elkay Lustertone Stainless Steel 31-1/2" x 21-1/8" x 7-1/2", Offset 70/30 Double Bowl Undermount Sink Kit
ELUH3221RDBG
(List price shown in US dollars. Actual selling price may vary.)
A magnificent blend of traditional and contemporary themes, Harmony sinks and faucets embody simplicity yet resonate sophistication.
Featuring straight lines and rounded profiles, this family offers an unrivaled transitional geometry.
QUIET: Sound-deadening materials minimize sound and vibration, while reducing condensation on the underside of the sink.
LARGE CAPACITY: Straight sidewalls give the sink a flat bottom and offer more usable space for stacking, soaking and washing dishes; easy to clean.
LUSTERTONE FINISH: Durable, fine linear grain means light scratches naturally blend into sink with time.
STAINLESS STEEL: Premium, 18 gauge, Type 304 (18/10) Stainless Steel Construction.
KIT INCLUDES: ELUH3221R sink, one LKWOBG2118SS bottom grid, one LK99 drain; save the time of having to purchase each piece separately.
Installation Type
Material
Stainless Steel
Finish
Lustertone
Gauge
18 Gauge
Sound Deadening
Sound Guard
Number of Bowls
2
Minimum Cabinet Size
36"
Sink Dimensions
L: 31-1/2"
W: 21-1/8"
D: 7-1/2"
Bowl 1 Dimensions
L: 21"
W: 18-5/8"
H: 7-1/2"
Bowl 2 Dimensions
L: 7"
W: 14-1/8"
H: 5-9/16"
Drain Size
3-1/2"
Shipping Dimensions
L: 37-3/4"
W: 26-1/4"
H: 10-1/2"
Product Compliance

ASME A112.19.3/CSA B45.4
BUY AMERICAN ACT

Accessory

ASME A112.18.2/CSA B125.2
Approximate Shipping Weight
24.7 lbs
Includes:
ELUH3221R sink
one LKWOBG2118SS bottom grid
one LK99 drain
Product Specifications
Installation Type
Material
Stainless Steel
Finish
Lustertone
Gauge
18 Gauge
Sound Deadening
Sound Guard
Number of Bowls
2
Minimum Cabinet Size
36"
Sink Dimensions
L: 31-1/2"
W: 21-1/8"
D: 7-1/2"
Bowl 1 Dimensions
L: 21"
W: 18-5/8"
H: 7-1/2"
Bowl 2 Dimensions
L: 7"
W: 14-1/8"
H: 5-9/16"
Drain Size
3-1/2"
Shipping Dimensions
L: 37-3/4"
W: 26-1/4"
H: 10-1/2"
Product Compliance

ASME A112.19.3/CSA B45.4
BUY AMERICAN ACT

Accessory

ASME A112.18.2/CSA B125.2
Approximate Shipping Weight
24.7 lbs
Includes:
ELUH3221R sink
one LKWOBG2118SS bottom grid
one LK99 drain