Sinks
Transitional
Elkay Lustertone Stainless Steel 14-1/4" x 15-3/4" x 5-15/16", Single Bowl Undermount Sink Kit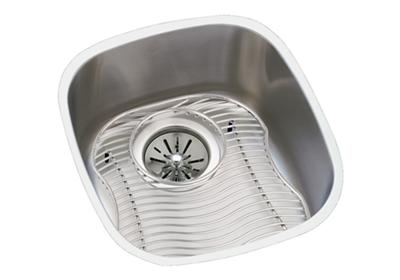 View Product Image Full Screen
Image May Not Reflect Selected Options
Elkay Lustertone Stainless Steel 14-1/4" x 15-3/4" x 5-15/16", Single Bowl Undermount Sink Kit
ELUH1113DBG
(List price shown in US dollars. Actual selling price may vary.)
A magnificent blend of traditional and contemporary themes, Harmony sinks and faucets embody simplicity yet resonate sophistication.
Featuring straight lines and rounded profiles, this family offers an unrivaled transitional geometry.
ADA COMPLIANT: Product is ADA compliant when properly installed.
QUIET: Sound-deadening materials minimize sound and vibration, while reducing condensation on the underside of the sink.
OFFSET DRAIN: Drain placement provides more usable space on the bottom of the sink and in the cabinet below.
LUSTERTONE FINISH: Durable, fine linear grain means light scratches naturally blend into sink with time.
KIT INCLUDES: ELUH1113 sink, LKWOBG1113SS bottom grid, LK99 drain; save the time of having to purchase each piece separately.
Installation Type
Material
Stainless Steel
Finish
Lustertone
Gauge
18 Gauge
Sound Deadening
Sound Guard
Number of Bowls
1
Minimum Cabinet Size
18"
Sink Dimensions
L: 14-1/4"
W: 15-3/4"
D: 5-15/16"
Bowl 1 Dimensions
L: 11-3/4"
W: 13-1/4"
H: 5-15/16"
Drain Size
3-1/2"
Shipping Dimensions
L: 23-1/2"
W: 19-3/4"
H: 8-1/2"
Product Compliance

ADA & ICC A117.1
ASME A112.19.3/CSA B45.4
BUY AMERICAN ACT

Accessory

ASME A112.18.2/CSA B125.2
Approximate Shipping Weight
9.8 lbs
Built In USA
ADA Compliant
Includes:
ELUH1113 sink
LKWOBG1113SS bottom grid
LK99 drain
Product Specifications
Installation Type
Material
Stainless Steel
Finish
Lustertone
Gauge
18 Gauge
Sound Deadening
Sound Guard
Number of Bowls
1
Minimum Cabinet Size
18"
Sink Dimensions
L: 14-1/4"
W: 15-3/4"
D: 5-15/16"
Bowl 1 Dimensions
L: 11-3/4"
W: 13-1/4"
H: 5-15/16"
Drain Size
3-1/2"
Shipping Dimensions
L: 23-1/2"
W: 19-3/4"
H: 8-1/2"
Product Compliance

ADA & ICC A117.1
ASME A112.19.3/CSA B45.4
BUY AMERICAN ACT

Accessory

ASME A112.18.2/CSA B125.2
Approximate Shipping Weight
9.8 lbs
Built In USA
ADA Compliant
Includes:
ELUH1113 sink
LKWOBG1113SS bottom grid
LK99 drain