Sinks
Traditional
Elkay Quartz Classic 16-5/8" x 16-5/8" x 8", Single Bowl Dual Mount Bar Sink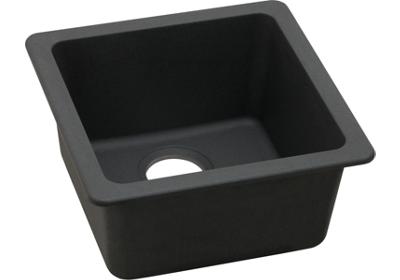 View Product Image Full Screen
Image May Not Reflect Selected Options
Elkay Quartz Classic 16-5/8" x 16-5/8" x 8", Single Bowl Dual Mount Bar Sink
ELG1515
(List price shown in US dollars. Actual selling price may vary.)
Elkay Quartz Classic sinks have a smooth surface and a visible depth to their structure. They come in a variety of vibrant UV-stable colors that allow you to add an unexpected pop of color to your space. Classic sinks also offer durability to take on tough kitchen tasks.
DUAL MOUNT: Versatile design allows the sink to be installed as a top mount or undermount.
QUIET: Sound-deadening material minimizes sound and vibration for a quieter time at the sink.
OFFSET DRAIN: Drain placement provides more usable space on the bottom of the sink and in the cabinet below.
DRAIN OPENING: Sink drain opening measures 3-1/2".
CABINET SIZE: Minimum cabinet size for this sink is 21".
Installation Type
Material
Quartz
Number of Bowls
1
Minimum Cabinet Size
21"
Sink Dimensions
L: 16-5/8"
W: 16-5/8"
D: 8"
Bowl 1 Dimensions
L: 14"
W: 14"
H: 8"
Drain Size
3-1/2"
Shipping Dimensions
L: 20"
W: 20"
H: 12-11/16"
Product Compliance
CSA B45.5/IAPMO Z124
Approximate Shipping Weight
18 lbs
Product Specifications
Installation Type
Material
Quartz
Number of Bowls
1
Minimum Cabinet Size
21"
Sink Dimensions
L: 16-5/8"
W: 16-5/8"
D: 8"
Bowl 1 Dimensions
L: 14"
W: 14"
H: 8"
Drain Size
3-1/2"
Shipping Dimensions
L: 20"
W: 20"
H: 12-11/16"
Product Compliance
CSA B45.5/IAPMO Z124
Approximate Shipping Weight
18 lbs