Sinks
Elkay Quartz Luxe 33" x 22" x 10", Offset 60/40 Double Bowl Top Mount Sink with Aqua Divide, Caviar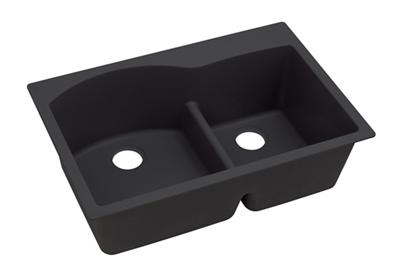 View Product Image Full Screen
Image May Not Reflect Selected Options
Elkay Quartz Luxe 33" x 22" x 10", Offset 60/40 Double Bowl Top Mount Sink with Aqua Divide, Caviar
ELXH3322RCA0
(List price shown in US dollars. Actual selling price may vary.)
Elkay Quartz Luxe sinks are exceptionally tough and silky smooth to the touch. They come in striking colors that make a statement. These sinks are constructed through a proprietary manufacturing process that combines natural quartz with high-performance UV-stable acrylic resins.
AQUA DIVIDE: Low center divider allows pan handles to extend over center and makes it easy to wash large items, like baking sheets, over both bowls.
TOP MOUNT INSTALLATION: Sink is designed for drop-in installation with a beautifully finished rim to make it a focal point of your kitchen.
QUIET: Sound-deadening material minimizes sound and vibration for a quieter time at the sink.
OFFSET DRAIN: Drain placement provides more usable space on the bottom of the sink and in the cabinet below.
EXTRA DEEP BOWLS: High-capacity bowls offer more room inside for stacking dishes, filling stock pots, and handling large baking sheets and roasters.
DRAIN OPENING: Sink drain opening measures 3-1/2".
CABINET SIZE: Minimum cabinet size for this sink is 36".
Installation Type
Top Mount
Material
Quartz
Finish
Number of Bowls
2
Minimum Cabinet Size
36"
Sink Dimensions
L: 33"
W: 22"
D: 10"
Bowl 1 Dimensions
L: 17-3/16"
W: 19-5/16"
H: 10"
Bowl 2 Dimensions
L: 13-1/8"
W: 16-5/8"
H: 10"
Faucet Holes
Pre-scored for up to 4
Drain Size
3-1/2"
Shipping Dimensions
L: 37-5/8"
W: 26-3/4"
H: 16-1/16"
Product Compliance
CSA B45.5/IAPMO Z124
Approximate Shipping Weight
62 lbs
Product Specifications
Installation Type
Top Mount
Material
Quartz
Finish

Caviar

Charcoal

Chestnut

Maraschino

Parchment

Ricotta

Number of Bowls
2
Minimum Cabinet Size
36"
Sink Dimensions
L: 33"
W: 22"
D: 10"
Bowl 1 Dimensions
L: 17-3/16"
W: 19-5/16"
H: 10"
Bowl 2 Dimensions
L: 13-1/8"
W: 16-5/8"
H: 10"
Faucet Holes
Pre-scored for up to 4
Drain Size
3-1/2"
Shipping Dimensions
L: 37-5/8"
W: 26-3/4"
H: 16-1/16"
Product Compliance
CSA B45.5/IAPMO Z124
Approximate Shipping Weight
62 lbs