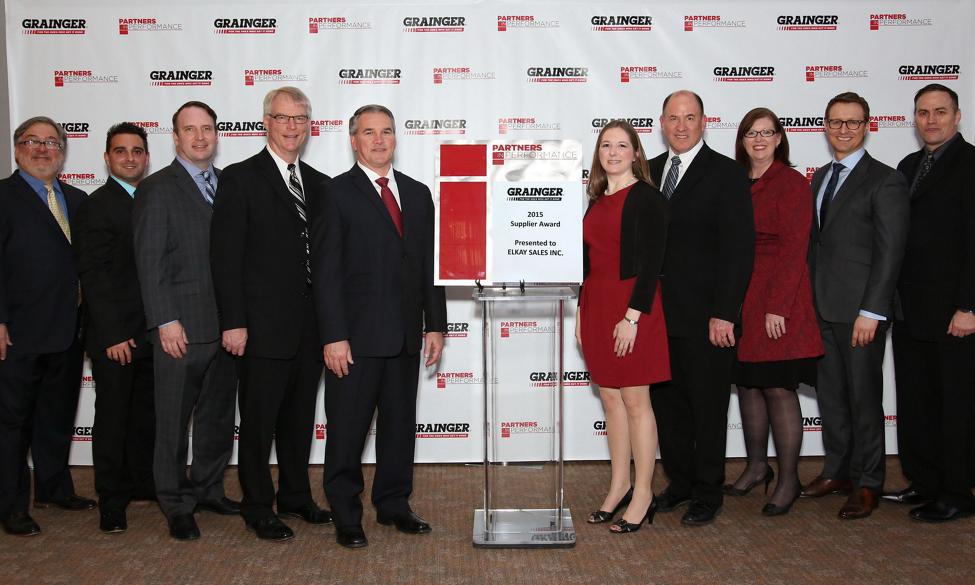 Accepting and Presenting the Award (shown left to right):
Fred Costello - Vice President, Global Product Management, Grainger, Joe Bonadonna - Sr. Supplier Performance Analyst, Grainger, Mike Burti - Sr Director, Product Category, Grainger, Jeff Saar, Plant Manager, Lanark, IL, Elkay, Mark Laing Director of Sales Emerging Markets, Elkay, Maggie Hayes - Product Manager, Plumbing, Grainger, Kraig Kniss Director, Manufacturing – Plumbing Products, Elkay, Amber Smith, Inside Sales, Elkay, Andy Stewart - Director, Product Portfolio, Grainger, Andy Trout - Sr Manager, Supplier Performance Management, Grainger
Elkay Recognized as Outstanding Supplier by Grainger
Oak Brook, IL (March 16, 2016) - Elkay was presented with a 2015 Partners in Performance Award as part of Grainger's annual supplier recognition event in Chicago. Grainger, the leading broad line supplier of maintenance, repair and operating (MRO) products serving businesses and institutions, presents the yearly award to a select group of suppliers for outstanding performance throughout the year.
Through this award, suppliers are recognized for excellence in several categories, including responsiveness, information integrity, on-time shipping, management commitment and order fulfillment. Each Grainger supplier receives ratings throughout the year for its respective performance in each of these categories. Out of Grainger's more than 3,500 active suppliers, less than 1 percent are chosen to receive these annual awards.
"We are extremely pleased to be recognized by Grainger for their Partners in Performance Award for the second year in a row," says Ted Hamilton, Executive Vice President Marketing and Business Development for Elkay. "Grainger is a trusted supplier to many of the industries we serve, and they maintain their own performance levels by setting exacting service levels for the suppliers they choose to work with. For this reason, we view receiving the Partners in Performance Award as being recognized for being among the best of the best."
"Grainger is proud to recognize Elkay for its outstanding supplier performance," said Fred Costello, Grainger Vice President, Global Product Management. "Our customers expect quality products consistently delivered to the right place at the right time. This is not possible without the commitment, dedication and outstanding service of our Partners in Performance suppliers."
About Elkay
Family-owned since 1920, Elkay has been making innovative products and delivering excellent, domestic customer care. Headquartered in Oak Brook, Illinois, Elkay expanded its commercial offerings over four decades ago, and today delivers world-class sinks, faucets, foodservice fixtures, water coolers, drinking fountains and award-winning rapid bottle filling stations. Additionally, Elkay Wood Products is one of America's leading cabinetmakers in the marketplace, with industry leading brands that include Medallion Cabinetry, Mastercraft Cabinetry, Design-Craft Cabinetry, Innermost Cabinetry, Yorktowne Cabinetry, Schuler Cabinetry and American Cabinetry Collection. Like your family, Elkay has values and traditions that endure; like a commitment to sustainability and to our country. For almost a century, Elkay has been American-owned and operated, providing thousands of jobs that support our families and communities.