New Elkay Magna Sink Clears the Clutter
No-Slip Magnetic Accessories Hold Sponges, Scrubbers and More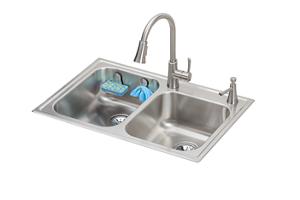 Magna Sink (HD3322EK2), Stainless Steel Double Bowl Top Mount Sink
OAK BROOK, Ill. – January 2015 – As anyone who spends time at their kitchen sink doing dishes knows, that area tends to accumulate a lot of stuff. In an effort to help homeowners clear the clutter, Elkay has introduced the Magna Sink, available at Home Depot.
"Studies show that homeowners spend anywhere from 30 minutes to two hours a day on average at the kitchen sink," said Rod Magnuson Product Director – Sinks, Faucets, and Foodservice. "With the Magna Sink and its related accessories, we hope to help homeowners keep their kitchen essentials organized and make better use of the space around their sinks."
The Magna Sink is built in the USA out of premium-grade 20 gauge stainless steel and features two deep, high-capacity bowls. Each Magna Sink includes two magnetic stainless steel accessories that fasten to the back walls of each bowl: a hook and a ledge that can hold items such as a dish rag or a sponge. The accessories use a strong magnet that is dishwasher safe and is easy to attach and remove. Additional accessories include a sponge holder, utensil holder and disposal cover.
Another feature of the Magna Sink that provides more usable space is the offset bowls with rear center drains. "One bowl is larger than the other," said Magnuson, "allowing homeowners to comfortably fit pots or pans that may require soaking." The left bowl is 13.5" x 18" x 8.25", and the right bowl is 14" x 15.75" x 8.25". The durable, top-mount sink comes in a satin finish and includes a full undercoating to deaden sound. The retail price is $199.
Family-owned since 1920, Elkay has been making innovative products and delivering excellent, domestic customer care. Headquartered in Oak Brook, Illinois, Elkay expanded its commercial offerings over four decades ago, and today delivers world-class sinks, faucets, foodservice fixtures, water coolers, drinking fountains and award-winning rapid bottle filling stations. Additionally, Elkay Wood Products is one of America's leading cabinetmakers in the marketplace, with industry leading brands that include Medallion Cabinetry, Mastercraft Cabinetry, Design-Craft Cabinetry, Innermost Cabinetry, Yorktowne Cabinetry, Schuler Cabinetry and American Cabinetry Collection. Like your family, Elkay has values and traditions that endure; like a commitment to sustainability and to our country. For almost a century, Elkay has been American-owned and operated, providing thousands of jobs that support our families and communities.