Elkay® Manufacturing Company Introduces E-Granite™ Sink Line Extension
OAK BROOK, Ill. (April 25, 2016) – Elkay® has introduced new colors and models to its E-Granite™ collection, making its granite sink portfolio the largest in the industry. The company's new E-Granite kitchen, bar and prep sinks include 10 new models and five new colors – Greige, Greystone, Sand, Putty and Pecan. With these additions, Elkay's E-Granite portfolio now includes a total of 10 colors and 26 different models – offering hundreds of granite options.
Elkay E-Granite sinks are stain and odor resistant and easy to clean – simply wash with a damp cloth and soapy water. The super-durable material is made from 80% natural quartz, so these sinks can endure everyday wear and tear – resisting smudges, scratches – and even heavier impacts. Elkay E-Granite sinks are also heat resistant up to 535 degrees Fahrenheit adding convenience in the kitchen.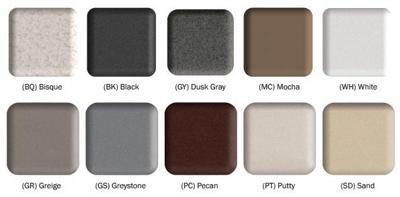 E-Granite Color Swatches
The nonporous ultrafine nanostructure of Elkay's E-Granite sinks also prevents foods, liquids, and bacteria from sticking to the surface for ultimate hygiene protection. And, the colors won't fade thanks to Elkay's proprietary UV stable technology.
"We couldn't be more excited about our expanded E-Granite offerings to meet growing demand for granite sinks," stated Ted Hamilton, Executive Vice President, Marketing and Business Development, Elkay Manufacturing. "With the addition of these new models and colors, our portfolio of E-Granite sinks is unrivaled. We are currently working on even more exciting granite sink colors and styles, so stay tuned." At the current growth rate, granite is predicted to replace cast iron as the number two sink material, behind stainless steel.
Elkay's E-Granite sinks are available in top, under and universal mounts and with single, double and Aqua Divide™ bowls. These sinks also come with a variety of accessories, including coordinating cutting boards and rinsing baskets.
Elkay E-Granite sinks are available through multiple sales channels. Find out more at Elkay.com/egranite.
About Elkay
Family-owned since 1920, Elkay has been making innovative products and delivering excellent, domestic customer care. Headquartered in Oak Brook, Illinois, Elkay expanded its commercial offerings over four decades ago, and today delivers world-class sinks, faucets, foodservice fixtures, water coolers, drinking fountains and award-winning rapid bottle filling stations. Additionally, Elkay Wood Products is one of America's leading cabinetmakers in the marketplace, with industry leading brands that include Medallion Cabinetry, Mastercraft Cabinetry, Design-Craft Cabinetry, Innermost Cabinetry, Yorktowne Cabinetry, Schuler Cabinetry and American Cabinetry Collection. Like your family, Elkay has values and traditions that endure; like a commitment to sustainability and to our country. For almost a century, Elkay has been American-owned and operated, providing thousands of jobs that support our families and communities.