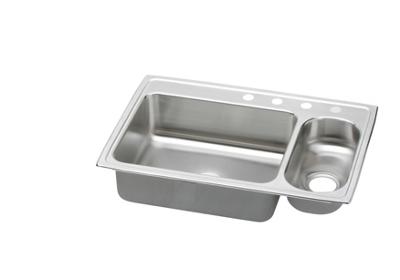 View Product Image Full Screen
Image May Not Reflect Selected Options
Elkay Pacemaker Stainless Steel 33" x 22" x 7-1/4", 70/30 Double Bowl Top Mount Sink
PSMR3322R
(List price shown in US dollars. Actual selling price may vary.)
Elevate the culinary experience with the professional grade Gourmet collection.
Meticulous attention to form and function creates a new standard for the connoisseur.
QUIET: Sound-deadening materials minimize sound and vibration, while reducing condensation on the underside of the sink.
TWO BOWLS, DIFFERENT SIZES: Use bowls independently; wash dishes on one side while keeping other bowl available for smaller tasks.
Installation Type
Top Mount
Material
Stainless Steel
Finish
Brilliant Satin
Gauge
20 Gauge
Sound Deadening
Full spray sides and bottom
Number of Bowls
2
Minimum Cabinet Size
36"
Sink Dimensions
L: 33"
W: 22"
D: 7-1/4"
Bowl 1 Dimensions
L: 21"
W: 15-3/4"
H: 7-1/8"
Bowl 2 Dimensions
L: 7-1/2"
W: 15-3/4"
H: 5"
Faucet Holes
Drain Size
3-1/2"
Shipping Dimensions
L: 37-3/4"
W: 26-1/4"
H: 9-1/2"
Product Compliance

ASME A112.19.3/CSA B45.4
BUY AMERICAN ACT

Approximate Shipping Weight
15.5 lbs
Product Specifications
Installation Type
Top Mount
Material
Stainless Steel
Finish
Brilliant Satin
Gauge
20 Gauge
Sound Deadening
Full spray sides and bottom
Number of Bowls
2
Minimum Cabinet Size
36"
Sink Dimensions
L: 33"
W: 22"
D: 7-1/4"
Bowl 1 Dimensions
L: 21"
W: 15-3/4"
H: 7-1/8"
Bowl 2 Dimensions
L: 7-1/2"
W: 15-3/4"
H: 5"
Faucet Holes

1

2

3

4

5

6

MR2

Drain Size
3-1/2"
Shipping Dimensions
L: 37-3/4"
W: 26-1/4"
H: 9-1/2"
Product Compliance

ASME A112.19.3/CSA B45.4
BUY AMERICAN ACT

Approximate Shipping Weight
15.5 lbs