Search / Elkay Stainless Steel 18" x 17-1/16" x 5-9/16", Wall Hung Lavatory Sink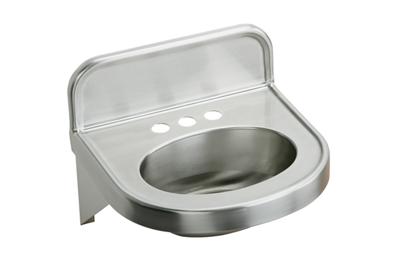 View Product Image Full Screen
Image May Not Reflect Selected Options
Elkay Stainless Steel 18" x 17-1/16" x 5-9/16", Wall Hung Lavatory Sink
ELV1817CS3
(List price shown in US dollars. Actual selling price may vary.)
Elkay has been a trusted name in stainless steel since 1920. Through the years our engineering and manufacturing methods have continued to evolve. Our expertise in forming welding trimming and polishing stainless steel have helped us to set the industry standard. We are proud to be America's No. 1 selling kitchen sink company.
ADA COMPLIANT: Product is ADA compliant when properly installed.
OFFSET DRAIN: Drain placement provides more usable space on the bottom of the sink and in the cabinet below.
Installation Type
Wall
Material
Stainless Steel
Finish
Buffed Satin
Gauge
18 Gauge
Number of Bowls
1
Sink Dimensions
L: 18"
W: 17-1/16"
D: 5-13/16"
Bowl 1 Dimensions
L: 79-1/2"
W: 27-1/2"
H: 14"
Faucet Holes
Drain Size
1-1/2"
Shipping Dimensions
L: 23-5/16"
W: 19-9/16"
H: 10-1/16"
Product Compliance

ADA & ICC A117.1
BUY AMERICAN ACT
NSF 2

Approximate Shipping Weight
16.2 lbs
Made In USA
ADA Compliant
Product Specifications
Installation Type
Wall
Material
Stainless Steel
Finish
Buffed Satin
Gauge
18 Gauge
Number of Bowls
1
Sink Dimensions
L: 18"
W: 17-1/16"
D: 5-13/16"
Bowl 1 Dimensions
L: 79-1/2"
W: 27-1/2"
H: 14"
Faucet Holes

3

CS3

Drain Size
1-1/2"
Shipping Dimensions
L: 23-5/16"
W: 19-9/16"
H: 10-1/16"
Product Compliance

ADA & ICC A117.1
BUY AMERICAN ACT
NSF 2

Approximate Shipping Weight
16.2 lbs
Made In USA
ADA Compliant