Search / Elkay Quartz Classic 33" x 19" x 10", Equal Double Bowl Undermount Sink with Aqua Divide, Sand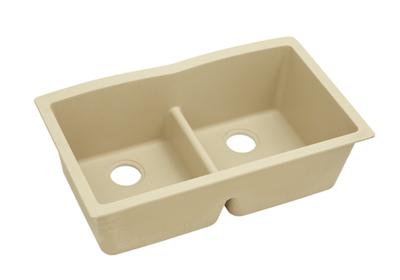 View Product Image Full Screen
Image May Not Reflect Selected Options
Elkay Quartz Classic 33" x 19" x 10", Equal Double Bowl Undermount Sink with Aqua Divide, Sand
ELGDULB3322SD0
(List price shown in US dollars. Actual selling price may vary.)
Elkay Quartz Classic sinks have a smooth surface and a visible depth to their structure. They come in a variety of vibrant UV-stable colors that allow you to add an unexpected pop of color to your space. Classic sinks also offer durability to take on tough kitchen tasks.
AQUA DIVIDE: Low center divider allows pan handles to extend over center and makes it easy to wash large items, like baking sheets, over both bowls.
UNDERMOUNT INSTALLATION: Sink is installed beneath the countertop creating a seamless appearance between the sink and the countertop.
DOUBLE BOWLS OF EQUAL SIZE: Conveniently use bowls independently for washing, soaking, rinsing, drying and other household tasks.
QUIET: Sound-deadening material minimizes sound and vibration for a quieter time at the sink.
OFFSET DRAIN: Drain placement provides more usable space on the bottom of the sink and in the cabinet below.
EXTRA DEEP BOWLS: High-capacity bowls offer more room inside for stacking dishes, filling stock pots, and handling large baking sheets and roasters.
DRAIN OPENING: Sink drain opening measures 3-1/2".
Installation Type
Undermount
Material
Quartz
Finish
Number of Bowls
2
Minimum Cabinet Size
36"
Sink Dimensions
L: 33"
W: 19"
D: 10"
Bowl 1 Dimensions
L: 15-3/16"
W: 16-3/4"
H: 10"
Bowl 2 Dimensions
L: 15-3/16"
W: 16-3/4"
H: 10"
Drain Size
3-1/2"
Shipping Dimensions
L: 37-5/8"
W: 26-3/4"
H: 16-1/16"
Product Compliance
CSA B45.5/IAPMO Z124
Approximate Shipping Weight
59 lbs
Product Specifications
Installation Type
Undermount
Material
Quartz
Finish

White

Bisque

Black

Mocha

Dusk Gray

Greige

Greystone

Pecan

Putty

Sand

Number of Bowls
2
Minimum Cabinet Size
36"
Sink Dimensions
L: 33"
W: 19"
D: 10"
Bowl 1 Dimensions
L: 15-3/16"
W: 16-3/4"
H: 10"
Bowl 2 Dimensions
L: 15-3/16"
W: 16-3/4"
H: 10"
Drain Size
3-1/2"
Shipping Dimensions
L: 37-5/8"
W: 26-3/4"
H: 16-1/16"
Product Compliance
CSA B45.5/IAPMO Z124
Approximate Shipping Weight
59 lbs