Drinking Solutions
Elkay Outdoor ezH2O Bottle Filling Station Pedestal, Non-Filtered Non-Refrigerated Freeze Resistant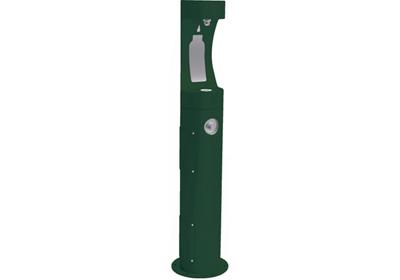 View Product Image Full Screen
Image May Not Reflect Selected Options
Elkay Outdoor ezH2O Bottle Filling Station Pedestal, Non-Filtered Non-Refrigerated Freeze Resistant
LK4400BFFRK
(List price shown in US dollars. Actual selling price may vary.)
Available Finishes/Materials
Outdoor tubular pedestal bottle filler ideal for parks and recreational areas. Powder-coated exterior over a corrosion-resistant primary coating to provide protection from the elements.
Corrosion-resistant base material provides the ultimate protection from the elements.
Heavy-gauge construction with tamper-resistant screws that resist stains and corrosion.
Laminar flow provides clean fill with minimal splash.
Fully sealed, freeze-resistant system minimizes ground water contamination and prevents drain water from mixing with fresh water.
Available in 12 stunning finishes.
Ideal for outdoor use.
Finish
Features

316 Stainless
Laminar Flow
Heavy Duty Vandal-Resistant
Sealed Freeze Resistant

Power
No Electrical Required
Bubbler Style
No Bubbler
Mounting Option
Floor Mount/Freestanding
Chilling Option
Non-Refrigerated GPH
Installation Location
Outdoor
No. of Stations
Single Station
Shipping Dimensions
L: 46-1/2"
W: 41-1/8"
H: 64-11/16"
Bottle Filling Station Dimensions
L: 14"
W: 14"
H: 64"
Shipping Weight
203 lbs
Product Compliance

ADA & ICC A117.1
Buy American Act
GreenSpec
NSF 61
NSF 372 (lead free)

Special Note
Choose from 12 color options
Built In USA
ADA Compliant
Includes:
Outdoor Bottle Filler
Freeze Resistant Valve
Product Specifications
Finish

White

Black

Gray

Beige

Blue

Brown

Evergreen

Purple

Red

Terracotta

Yellow

Orange

Features

316 Stainless
Laminar Flow
Heavy Duty Vandal-Resistant
Sealed Freeze Resistant

Power
No Electrical Required
Bubbler Style
No Bubbler
Mounting Option
Floor Mount/Freestanding
Chilling Option
Non-Refrigerated GPH
Installation Location
Outdoor
No. of Stations
Single Station
Shipping Dimensions
L: 46-1/2"
W: 41-1/8"
H: 64-11/16"
Bottle Filling Station Dimensions
L: 14"
W: 14"
H: 64"
Shipping Weight
203 lbs
Product Compliance

ADA & ICC A117.1
Buy American Act
GreenSpec
NSF 61
NSF 372 (lead free)

Special Note
Choose from 12 color options
Built In USA
ADA Compliant
Includes:
Outdoor Bottle Filler
Freeze Resistant Valve