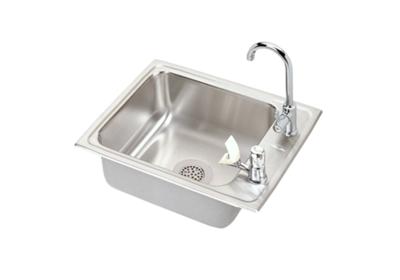 View Product Image Full Screen
Image May Not Reflect Selected Options
Elkay Lustertone Stainless Steel 22" x 17" x 7-5/8", Single Bowl Top Mount Classroom Sink + Faucet/Bubbler Kit
DRKRQ2217LVRC
(List price shown in US dollars. Actual selling price may vary.)
Elkay Classroom Sinks provide the versatility and durability required for multitasking in the classroom. Our classroom sinks are the ideal way to provide hand washing, light clean up and drinking water all in one area.
QUIET: Sound-deadening materials minimize sound and vibration, while reducing condensation on the underside of the sink.
QUICK-CLIP MOUNTING SYSTEM: Quickly and securely install sink from above the counter with a series of clips that attach to laminate countertops.
LARGE CAPACITY: Straight sidewalls give the sink a flat bottom and offer more usable space; easy to clean.
LUSTERTONE FINISH: Durable, fine linear grain means light scratches naturally blend into sink with time.
KIT INCLUDES: LKDVR208513LC faucet, LKVR1141A bubbler, LKVR18 strainer; save the time of having to purchase each piece separately.
Installation Type
Material
Stainless Steel
Finish
Lustertone
Gauge
18 Gauge
Sound Deadening
Full spray sides and bottom
Number of Bowls
1
Minimum Cabinet Size
27"
Sink Dimensions
L: 22"
W: 17"
D: 7-5/8"
Bowl 1 Dimensions
L: 16"
W: 13-1/2"
H: 7-1/2"
Faucet Holes
2
Drain Size
3-1/2"
Shipping Dimensions
L: 37-3/4"
W: 26-1/4"
H: 12-1/2"
Product Compliance
ASME A112.19.3/CSA B45.4

Faucet

ASME A112.18.1/CSA B125.1
NSF 61
NSF 372 (lead free)

Accessory

ASME A112.18.2/CSA B125.2
Approximate Shipping Weight
24 lbs
Includes:
LKDVR208513LC faucet
LKVR1141A bubbler
LKVR18 strainer
Product Specifications
Installation Type
Material
Stainless Steel
Finish
Lustertone
Gauge
18 Gauge
Sound Deadening
Full spray sides and bottom
Number of Bowls
1
Minimum Cabinet Size
27"
Sink Dimensions
L: 22"
W: 17"
D: 7-5/8"
Bowl 1 Dimensions
L: 16"
W: 13-1/2"
H: 7-1/2"
Faucet Holes
2
Drain Size
3-1/2"
Shipping Dimensions
L: 37-3/4"
W: 26-1/4"
H: 12-1/2"
Product Compliance
ASME A112.19.3/CSA B45.4

Faucet

ASME A112.18.1/CSA B125.1
NSF 61
NSF 372 (lead free)

Accessory

ASME A112.18.2/CSA B125.2
Approximate Shipping Weight
24 lbs
Includes:
LKDVR208513LC faucet
LKVR1141A bubbler
LKVR18 strainer